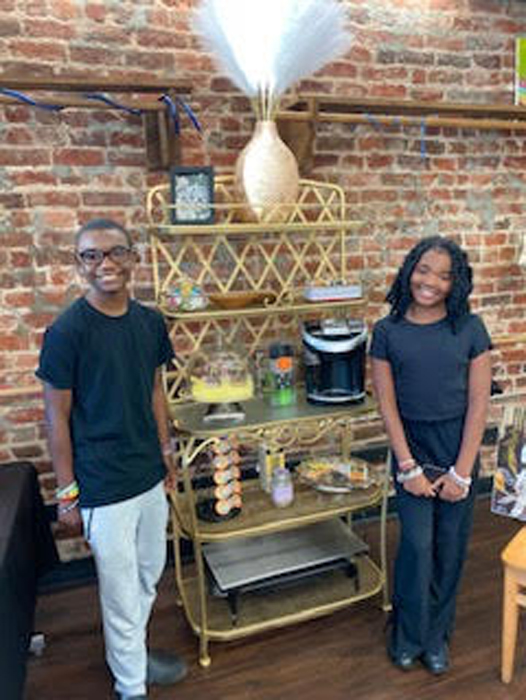 When Ticeses Teasley separated from the father of her children, her teenage son, Nahkai, started acting and fighting at school.
As a licensed mental health professional and life coach, the mother-of-four acknowledged the behavior resulting from her son experiencing emotions he didn't know how to appropriately handle.
According to the National Alliance on Mental Illness in Virginia, one in six children in the United States between the ages of 6 and 17 suffers from some form of mental illness. In Virginia, 97,000 teens battled depression in 2021, and 56.2% of them received no treatment in the past year. Students with depression are twice as likely to drop out of school as students without it, and seven out of 10 children in the juvenile justice system have a mental health problem.
Ms Teasley hopes to disrupt those statistics through her organisation, Nurturing Minds. She knows what it's like to work on mental health issues with young people thanks to her experience with Nahkai, who addressed his mental and physical issues at the East End Boxing Club. Ms. Teasley's program, Therapy Undefeated, works with the club, providing trauma-informed mental health care.
Ellwood Patterson, 'Coach Pat' as the children who learn boxing with him call him, said he teamed up with Ms Teasley because he could see where the two companies shared a common goal of serving young people .
"I ran my own group home for 20 years and got kids from all walks of life there, including kids from the juvenile justice system," he said. "[Ms. Teasley] deals with anger management; I take care of the physical.
As students learn the discipline and develop the skills required for boxing, they also learn to deal more constructively with the obstacles they face and the emotions that may accompany them.
Through peer support groups with Ms. Teasley, participants form healthy connections with themselves and others. They are taught to examine the source of feelings they struggle to express outwardly – ​​such as anger, anxiety and depression – and are given tools to develop alternative ways to channel their emotions.
"We can help them understand their anger – boxing helps them release that emotion," said coach Pat. "It teaches them that there are other ways to deal with your anger, starting with figuring out what triggers them, what makes them tick."
Therapy Undefeated operates under Ms. Teasley's non-profit organization, Nurturing Minds. The organization was established in 2016 and recently received a $10,000 grant from Venture Richmond to help relocate the business to 420 W. Broad St. The location is more accessible for students and their families – the building is near the Greater Richmond Transit Corporation (GRTC) Pulse bus stop — and to expand the organization beyond the parenting, peer group and trauma healing group services it initially offered, said she declared.
In addition to the East End Boxing Club partnership, Nurturing Minds has opened The Nurturing Café, another outlet for children to develop healthy coping mechanisms for their emotions. Located in Mrs. Teasley's building, the attendees deal with marketing, meal preparation, greeting, serving and calling customers – the whole operation is run by young people under her supervision . Working at the Cafe is an after-school program offered to students in Richmond Public Schools.
"We provide the food and the revenue from the customers goes to the cafe," Ms. Teasley said, "and the kids get to keep their tips."
Located near Virginia Commonwealth University, the cafe offers "nutritious wraps" made with chicken, shrimp, cheeseburger, salmon and vegetables; Fries; chicken strips; and other items. "Children get a week of training and hands-on experience to build skills and learn to manage their emotions."
Ms. Teasley also provides outlets for students to express these emotions. The building has a stage where Ms. Teasley plans to offer spoken word engagements. It also has an urban art gallery to encourage students to express themselves through art. The gallery is sometimes open during the first Fridays.
"Everything we do centers around expression and entertainment to keep children safe and off the streets," Ms Teasley said.