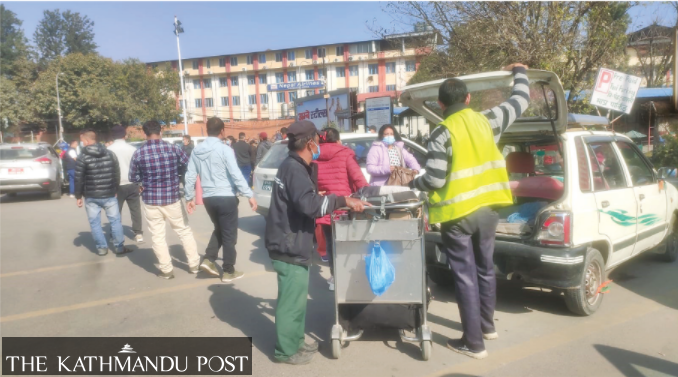 Cheeja Gurung, who was traveling to Pokhara from Kathmandu airport on Wednesday, was surprised when a stranger asked him for money for a luggage cart.
As Gurung, 33, and her five-year-old daughter were looking for a cart at the airport taxi stand, a man approached her and asked if she would need cart service.
"I couldn't find a luggage cart so this man came to me and asked me for 50 rupees to get my luggage. I know the tram service is free. But I couldn't face the man because I had a flight to catch and I had two bags with me.
A group of people apparently hijacked baggage carts at the airport and charged passengers for their use. Meanwhile, the airport authority is not aware of this shady union.
The Post interviewed several passengers at the airport's domestic terminal who complained about difficulty finding baggage carts and having to pay "cart managers" for the service. There was no view of unoccupied carts at the taxi stand, but there were a few people pushing empty carts in search of passengers, preferably overwhelmed with baggage.
Suman Adhikari, 37, who arrived at the airport to catch a flight to Chitwan, said he too was approached by someone with a trolley.
"I didn't see any wagon around. So this man comes to me and asks me for money for the streetcar service, "he told The Post. "I rejected his offer and decided to lug my bags myself."
Prem Nath Thakur, spokesperson for Tribhuvan International Airport, said he was unaware passengers were charged for the tram service.
"It is illegal to charge for carts," he said. "We will notify our security team to deal with the issue."
In addition to being charged for baggage carts, many passengers at the airport also complained of being overcharged by taxis. Some of them complained that even when they booked the service using ridesharing apps, they were overcharged.
Thakur, however, said the airport authority cannot intervene in the problem of passengers overcharged by taxis.
"It's a complaint the police should deal with," he said.
For his part, Chief Superintendent Rajesh Nath Bastola, the airport police chief, said the airport operations department was responsible for monitoring these activities at the airport premises.
"It is the responsibility of the airport authority to verify such abusive practices. We only act after receiving complaints, "Bastola said.
He said, however, that airport police had already arrested four people for misconduct or attempted deception of passengers in recent times. They were handed over to the Metropolitan Police Circle, Gaushala.
"We are doing our best to stop such acts inside the airport. But the passengers have to complain first, "Bastola added.