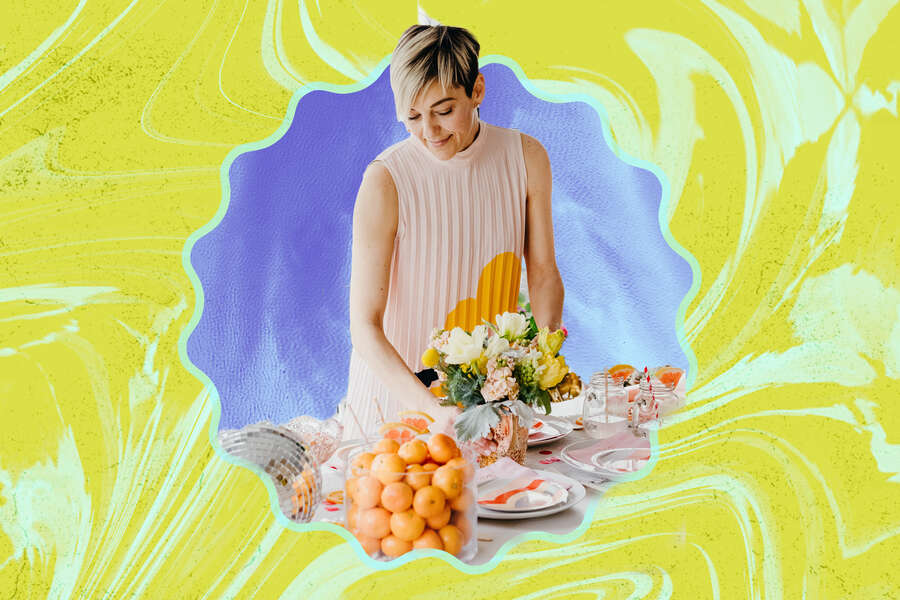 We independently buy all of the great products and experiences that we feature on Thrillist. If you buy or book from the links on our site, we may receive an affiliate commission – which in turn supports our work.
One of the best ways to make a holiday meal stand out is to accompany it and integrate it into a multitude of festive decorations. Beyond the delicious meal, there is something about sitting at a table teeming with a beautifully curated display. Plus, it serves as the perfect backdrop to bring together the memories you're about to make.
Unfortunately, not all of us are blessed with interior design talents, which can make creating a unique tabletop landscape a little intimidating. So, to give you the confidence and know-how you'll need to create your own wonderfully personal table, we asked Ellie Nottoli, an event planner and stylist, for advice on how to easily make a beautiful tray. table worthy of the holidays. She owns an event planning business in Lake Forest, Illinois, and specializes in decorating weddings, home gatherings, birthdays, and intimate dinners.
Thrillist: What inspired you to throw a party?
Ellie Nottoli: I started my business about five years ago and it really is down to my love of entertainment. This kind of meeting with my love for art and design. I kind of found a way to implement the design on a table and on events in general.
What's the first thing to consider when planning and designing a dinner party?
Nottoli: I like to think of my approach to events as a narration. How do we tell the story of a couple through the design and style elements we choose? Even if it's the signage of the bar or the signature cocktail that we choose. Everything is very intentional and determined. We pull the Pantone colors and build type from there and then talk about details like, do they want a formal sit-down dinner? Do they want more than one cocktail after the aperitif? So we're kind of going to follow this checklist of what they want their event to look like.
What color combinations would you use for the holiday season?
Nottoli: I have clients who are really traditional and love red and green. I have clients who are very avant-garde and they like the offbeat colors for Christmas more. My personal taste is to do something a little unexpected. And even though we use traditional table tops, like the Spode collection for example, all grandmothers have it, right? It has probably been passed on to too many people. I'm so inspired by nature, so I like to bring a lot of organic elements, a lot of textures through different woods, like birch bark or even just the greenery on the table. We have set up beautiful holiday tables, blue and gray Christmas tables and it always has a very festive holiday feel.
Moving on to table essentials, what elements do you like to incorporate into each table top?
Nottoli: [There's] a few components that I want to share with you on the table top:
Linen: I am certainly thinking of Thanksgiving, which lends itself to a more casual meal for most families. If there is a really nice farmhouse table, I love using this exposed wood. It's just a little warmer and a little less formal. We love to incorporate texture through a really nice runner on this wood table or through a full linen if they prefer a linen table. [For] a kind of very formal mahogany table, you can sometimes dress it with a very nice full linen which has a certain texture, like very loose woven linen.
Dishes : I have several vintage porcelain sets from my grandma and great grandmother, and I'm a huge fan of using what you have, using what is in your family. I love the feeling, especially when setting up a holiday table. I love the formality of a porcelain plate, and I think there is a way to mix it up and match it with something current and new. One of my favorite collections is the Mercer Collection from Crate & Barrel. It's just a very simple clean plate that has a bit of texture on it. You can actually use it as a dinner plate or as a charger. A lot of times we will use this plate as a layer, as a charger, and then we will put a piece of porcelain on it, just to create a bit of juxtaposition. And then depending on what you're serving, if you're serving soup, then of course a bowl would be appropriate. The salad plates are ideal for a starter or for desserts. We have a whole collection of Depression glass dessert plates that we often use for appetizers or salads or desserts.
Utensils: Utensils are another thing that is really easy to find [and] relatively inexpensive. Even Target has great gold cutlery, rose gold cutlery. Crate & Barrel offers beautiful bamboo cutlery. I think it's another place. You can almost think of it as a piece of jewelry for your table. It's an accessory and I think it's a lot more accessible now to splurge and buy a 12 or 20 place setting set of a different type than the one you use every day.
Glassware: Glassware is very similar to plates and cutlery. I consider it an accessory. It's just a really cool place where you can add color, texture. Again, we use a lot of this Depression glass, which has texture. I like to mix and match this with modern styles, be it a simple and beautiful Riedel wine glass. Estelle glassware is truly magnificent. It's more modern, it's clean, but it comes in the most delicious color spectrum. I think this is a really nice way to tie together, whether you have a design on your plate or use flowers of a specific color. It's just a nice way to complete that narration.
Decor: I am a huge believer in candle light, even though it's a lunch. I think [it's] attracting natural elements is really important, and a flame just adds that kind of sparkle, warmth, and essence to a table. It just makes it come alive and you can find taper candles in all colors.
Style tip: Another way I like to bring the table to life is through fruits and vegetables as style elements. It might sound weird, but sort of think of seasonal fruits that you could place on your runner, or even on the plate as a placeholder maybe. Often for Thanksgiving or Christmas we will find a fruit of this season like a persimmon or a pomegranate, and we will physically write the names of the guests directly on the fruit and use it as a place card. It's nice. I think that's a really great inexpensive style tip, to just go to your grocery store and find some really nice fruits and veg to incorporate on your table.
This interview has been condensed and edited for clarity.