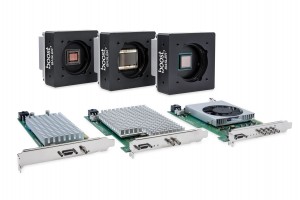 Basler significantly expands its presence in the CoaXPress 2.0 market and expands its product portfolio with additional CXP-12 boost series camera models, two new CXP-12 multi-channel interface cards and a variety of corresponding components. The boost camera is now available with two ports and the powerful Sony Pregius S IMX530, IMX531 and IMX532 sensors, with resolutions up to 24 MP and frame rates up to 150 fps. The cameras can be efficiently combined with the new two and four channel interface cards. Components such as C and F mount lenses, coaxial cables and evaluation kits for a simplified testing and integration phase complete the overall CXP-12 package.
Interface cards and boost cameras form a tightly integrated – and also low cost – unit, controlled by the Camera Pylon Software Suite as a single SDK. This allows computer vision systems to be commissioned as multi-camera configurations with little effort via plug-and-play functionality, reducing system complexity and integration effort and therefore the overall system costs, for applications such as those in the semiconductor and solar industries, display (FPD), food printing and inspection, and medical technology.
Many combinations for many applications
The portfolio now expands to 16 CXP-12 boost matrix cameras, with global shutter CMOS sensors from Sony and ON Semiconductor, resolutions up to 45 MP for monochrome and color applications, and three interface cards with one, two and four channels. The camera and interface card combinations are scalable according to the CoaXPress 2.0 standard to achieve high resolutions and frame rates for high speed applications. These systems are characterized by low latencies and economical long cables with integrated power supply (PoCXP – single cable solution) which are also suitable for energy chains. Interface cards have already defined image preprocessing functions, which reduces the CPU load on the host computer.
With many years of experience in the CoaXPress field, Basler offers a portfolio of carefully selected, tested and compatible hardware and software. This allows users to easily select and integrate to build an efficient and future-oriented computer vision system according to their specific needs. Existing system architectures based on older CoaXPress or Camera Link interfaces can thus be updated with the latest technologies. Basler support is available to answer any technical questions you might have about CoaXPress.