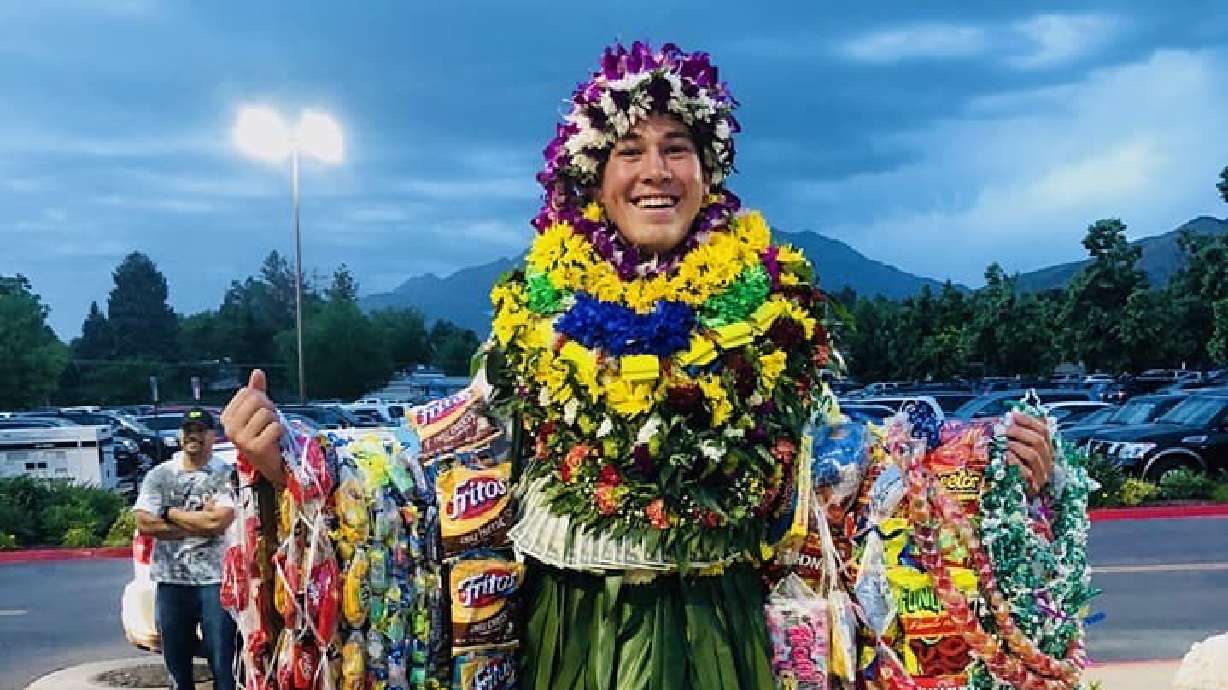 Finehafo'ou Malohifo'ou poses after graduating in 2018. He was not allowed to wear a single lei or his ta'ovala cloth to represent his Tongan heritage while graduating from Westlake High School. (Sara Malohifo'ou)
Estimated reading time: 5-6 minutes
SALT LAKE CITY – Sara Malohifu'ou and several other family members groomed her daughter Isa Malohifu'ou to graduate at the 2021 Granger High School graduation. Due to the family's Tongan heritage, the Isa's preparation included donning a "ta'ovala", which is an ornamental cloth worn on formal occasions, as well as a lei around his neck and one under his cap.
Three years earlier, Sara Malohifo'ou's son, Finehafo'ou "Fine" Malohifo'ou, was dressed similarly for his own graduation ceremony at Westlake High School. His experience, however, was quite different.
Fine was not allowed to wear leis, and upon receiving his diploma, he was asked to remove his ta'ovala.
That incident in 2018 drew national attention, even prompting a school official to issue an apology, Sara Malohifo'ou said.
Even so, the rules at Westlake High School still prohibit the wearing of necklaces at graduation. For this reason, parents and students have started a petition on Change.org asking schools to allow students to wear cultural attire at graduation.
The petition, which now has at least 11,000 signatures, features Finehafo'ou Malohifo'ou adorned with flower leis that were draped over him after graduation.
The petition says a "lei-free policy" affects many students with cultural heritage, especially in the Alpine and Jordanian school districts.
"This policy didn't just affect Pacific Islander students; it affected anyone who tried to wear anything of their cultural identity, such as natives who weren't allowed to wear Regalia, which is part of of their culture," the petition reads. .
And while no district has such a policy, some schools like Westlake High School have specified that "necklaces CANNOT be worn during graduation."
more than flowers
Sara Malohifu'ou said allowing students like her children to wear cultural clothing, including necklaces, is not a fashion statement.
"Every time you put on a lei, it's a sign of love," said Sara Malohifo'ou. "It's family. It represents family – generations before you – who are there with you. It's a celebration for the whole family. It's a way to connect generations and have your ancestors with you. ."
Sarah Malohifo'ou spoke about upholding the no-leis rule when her son graduated in 2018, but felt upset that her son was silenced for wanting to represent his culture by always wearing it. his ta'ovala.
"The ta'ovala was under her dress, so no one would have ever known," Sara Malohifo'ou explained. "When he opened his dress, they told him to take it off, and he said, 'This is my culture. It's really important that I wear this.'
"When Fine came out holding the ta'ovala, it upset everyone. It was my first real taste, as a mother, of discrimination. Making her do something because it was different – because her culture was different I was overwhelmed by These are 18 year old graduate students that we send out into the world but you don't listen to what they say It's like, how are you going to take their voices away and do you expect them to have one entering adulthood?"
A striking contrast
Sara Malohifo'ou said allowing Granger High School to wear cultural attire, including leis, at her daughter's graduation last year improved the overall experience.
"The Granger graduation was so diverse," Sara Malohifo'ou said. "There were so many different beautiful cultures. There were Latinas and Hispanics at Isa's graduation who had their leis on and they had different headgear, and it was so beautiful to sit there and to watch all these different cultures. It was completely embraced, and wow! What a difference!"
Sara Malohifo'ou again reiterated that for many of these students, a high school diploma is a family affair.
"During my daughter's graduation, they brought up an amazing point that there are a lot of students who are graduating for the first time in their families," Sara Malohifo'ou said. "It's a family party."
"Even though Fine wasn't allowed to wear his ta'ovala and leis, after graduation, all of his aunts surrounded him and just put him back on, and started putting on leis after lei, and really expressed so much love. It's beautiful."
hope for change
The Change.org petition that seems to be gaining momentum is asking schools to re-evaluate their policies, and Sara Malohifo'ou says she hopes things will change.
"It resurfaces with every graduation; it's an ongoing problem," she said. "With Fine telling his story, he's kind of been the poster child, if you will. I think that needs to be talked about and acknowledged. Change needs to happen."
KSL.com reached out to Alpine School District spokesman David Stephensen, who offered encouragement.
"Alpine school administrators are working with graduating seniors to allow for appropriate cultural expression at graduation ceremonies," he said in a text message, while encouraging students with questions to "check with their school director".
×
Pictures
Related links
More stories that might interest you